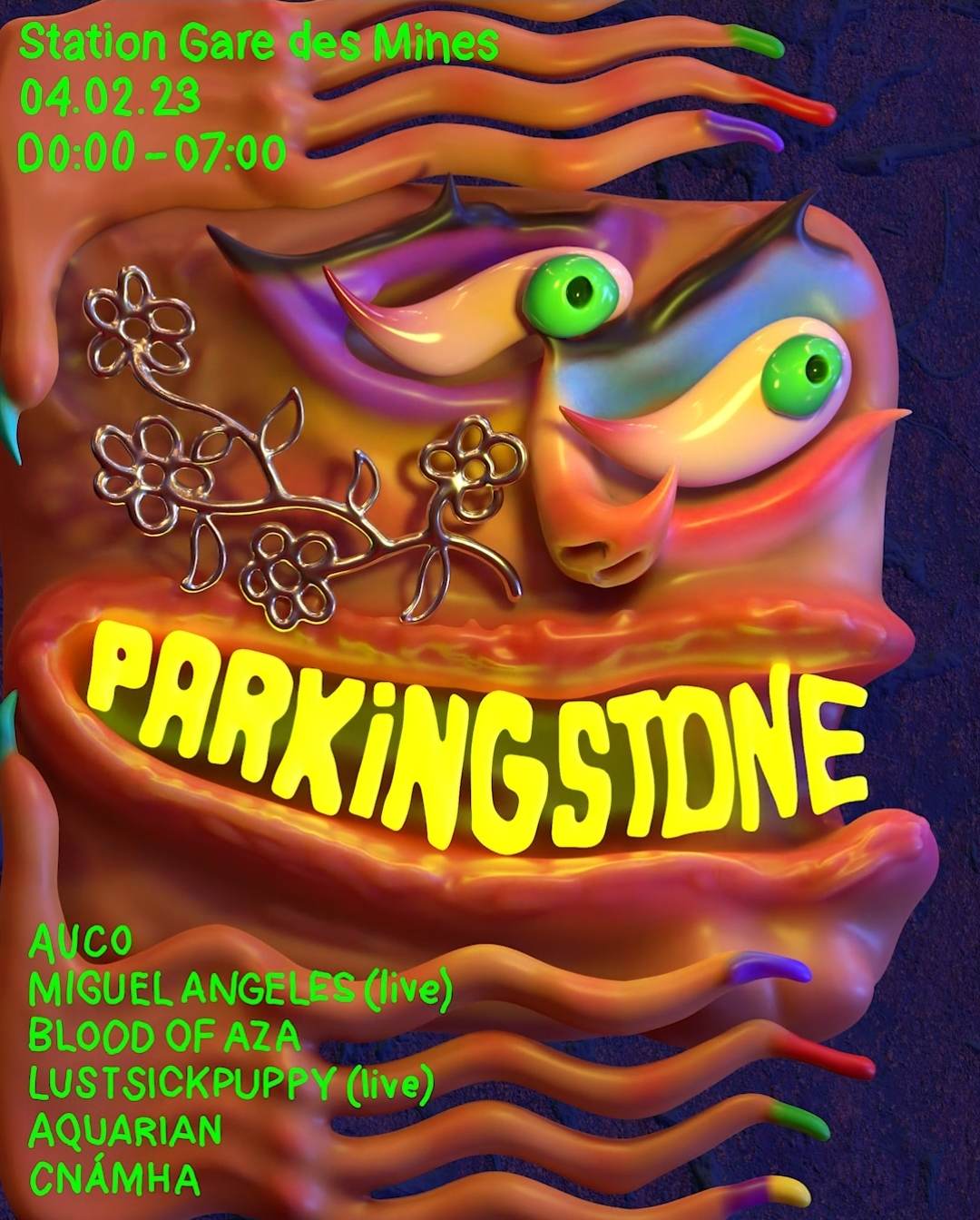 Sam 4 février
00h00 - 07h00
Early Bird → 12 euros
Prévente → 15 euros
AQUARIAN (djset) . PARIS PREMIERE
Hybrid, mutated strains of rave music with influence from the sounds of London, Detroit, and Berlin – Aquarian makes raw, arresting, and urgent music aimed squarely at the dancefloor. Drawing his sound from both sides of the Atlantic, he combines Drexcyian electro, old school jungle, and UK grime with vertical singularity. The Canadian-born, Berlin-based artist broke out with a trio of records for UNO NYC in 2012, and has since released records through his own culinary-rave imprint, Hanger Management, while also collaborating with Caen-based producer Deapmash as AQXDM on Bedouin Records and Houndstooth. As a DJ, his high energy and eclectic mixing style has found its way into Berghain, De School, Tresor, and Unsound Festival, while his productions have drawn support from Aphex Twin, Nina Kraviz, Ben UFO, Objekt, Avalon Emerson, and more. 2019 saw his LP debut, The Snake That Eats Itself, released via Bedouin Records, expanding on his stylistic hallmarks to include industrial-flecked IDM, drone, and pop through a cinematic lens, while collaborating with acclaimed artist and researcher Sougwen Chung on a spectacular live A/V show. Showcased at festivals around the world, such as Nuits Sonores, Mutek, and CTM to name a few – it also hints at some of his other work in scoring and soundtracks. 2022 has been marked by two critically-acclaimed EPs for Dekmantel Records' UFO imprint. Originally written as inflection points for his typically boisterous and genre-collapsing DJ sets, they gleefully contort DnB tearouts, wrong-footed IDM, and progressive trance euphoria into thrilling new shapes. Whatever the touchstone, the results are clear: distinctly modern, highly-propulsive body music with an unapologetically emotive core.
LUSTSICKPUPPY (live) . FRANCE PREMIERE
Blending elements of punk, gabber, drum b bass and rap, they deliver warped melodies over hyperactive beats at breakneck speed. Equal parts glitter and blood, their shows are raw and unpredictable, a live rave liturgy taking audiences by the leash while offering the ride of a lifetime. Following their debut EP Cosmic Brownie and a collaboration with Machine Girl's Matthew Stephenson, 2022 saw LustSickPuppy releasing their sophomore EP As Hard As You Can, featuring collaborations with Bonnie Baxter of Kill Alters and Andy Morin of Death Grips. On their latest single, "might b", they further expand their style by anchoring abstract drum n bass leanings with sparkly, sun-drenched harmonics and an irresistable hook. "The smiley face paint represents me existing as a black queer person having to smile my way through this fucked up world. It's the idea that if you can't see past this face, you will never be able to connect with me deeply."
MIGUEL ANGELES (live) . FRANCE PREMIERE
Chaotic, angelic, hyperactive - Miguel Angeles is a vocalist and producer who lives at the crossroads of alternative, electronic, kinda punk, occasionally rap and yet refuses to be bound by any one genre. With an EP on the way entitled "Midnight in Purgatory", and frequent, unpredictable releases, Miguel constantly explores new crevices and is hell-bent on creating music that is rife with raw honesty and energy. In addition to his own music, Miguel has also produced tracks for other exciting artists, including Fousheé and Lil Uzi Vert, and collaborated with artists such as Ezekiel & Syko. IRL ANGEL, Angel of Chaos, Lil Horn – whichever side of Miguel appears at his shows or in his music, it's always quintessentially him, coarse and uncut.
AUCO (djset) . PARIS PREMIERE
Berlin based DJ, AUCO, is known for their obsessive exploration into the craft of DJing. Their signature style combines daring and complex blends with a gritty sound palette, which originally encompassed new gen and deconstructed club tracks, but has since grown to incorporate newly-evolved genres as Gqom, Jersey club, as well as old-school Jungle, Garage, and Ragga. Protean as ever, their selection pays tribute to their South London roots while also activating a nexus between the robust histories and global milieus of underground clubbing culture. Together with producer and DJ, Neana; AUCO is co-founder of Infinite Quest: a party series, radio show and music label.
BLOOD OF AZA (djset) . FRANCE PREMIERE
Blood of Aza is a Surrey-based 19 year old artist, producer and DJ. She began to gain prominence on SoundCloud releasing remixes of pop and rap idols, and has created a blissful sonic palette for herself, ranging from soothing MIDI lullaby magic and speaker-blowing club edits, to hell-raising ambient soundscapes.
CNÁMHA (djset) . FRANCE PREMIERE
Cnámha is an Irish producer who has been making electronic music over 10 years. While stylistically he has shifted many times, his consistency comes from the palette of sound used. From harsh and uncompromising, to mellow and structured, the sound is based in rich texture. Never wanting to settle, the listener should expect nothing other than what is not expected. Shifts in tone, genre and placement are where Cnámha derives direction.
The actions or display of the following behaviors are not tolerated: slutshamming, racism, sexism, transphobia, homophobia, misogyny, validism, discrimination as well as disrespect for consent. If you have any concerns, contact us directly, we are here for you!
Every shape, color, gender, soul, body and sex are WELCOME and CELEBRATED
Vestiaires & Accès PMR
La Station — Gare des Mines
29, avenue de la Porte d'Aubervilliers
www.lastation.paris